South Alabama KA Studies in Cuba
Senior Ethan Hamilton (Epsilon Alpha – South Alabama '13) wanted to study abroad in Australia, but the cost was more than his assets. Instead, he settled for a summer in Cuba, becoming the first Jaguar to study on the Caribbean island where Americans are being welcomed again after more than 50 years.
"After deciding I couldn't afford Australia, I looked for something in Latin America," said Hamilton, who is majoring in international studies with a concentration in international relations. "When I learned I could go to Cuba, I took it and ran with it, even though I barely knew Spanish. Thank goodness, my roommates, all from other universities, were fluent."
The 22-year-old resident of Leesburg, Ala., was helped in his search and decision by the director and staff of USA's Study Abroad Program. USA's increasing focus on studying abroad is strengthened by the University's participation in the Universities Study Abroad Consortium, which links universities around the world.
Despite increasing détente between American and Cuba, Hamilton, who is in the Alabama National Guard, had to have his commander sign off on his application to the U.S. Department of State. Then, like most other Americans, he had to enter the country via Costa Rica.  He arrived in Havana, Cuba, on June 27, beginning an education he'll never forget. 
"It was like a step back to the 1950s. You see all the old cars, and it's awesome," he recalled. "The old architecture is amazing. I saw one building with a dozen different kinds of architecture."
Hamilton's class included 13 other American students, and their studies began with a bus tour of the island directed by their Cuban teachers. First stop was the infamous beach at the Bay of Pigs, where in April, 1961, an American-backed invasion to retake Cuba from Fidel Castro failed. The operation, an embarrassment for both the United States and the new administration of President John F. Kennedy, increased hostile feelings between America and Cuba.
Hamilton said today the beach is a travel destination for Cubans who are permitted to stay only one night in small houses.
"Looking at the beach today, it looks like any other beach, but I knew I was swimming where the Bay of Pigs happened. I kept thinking about all that had gone on there, and it was an amazing feeling to think you were right where it had happened," Hamilton said.
Other stops included Santa Clara where they visited the burial place of Ernesto Che Guevara, the revolutionary who fought his final battle there during the revolution that toppled the Fulgencio Batista government in 1958.
"Our class was titled 'Latin America and Social Revolution,' including not only Cuba but also Haiti and Mexico. It was taught from their perspective rather than from ours," Hamilton said. "Part of the experience of studying abroad is to learn how other countries view themselves as well as how they view America."
Back in Havana, classroom lectures were held at the Africa Museum and taught by Cuban professors. Later in the day, Hamilton and his friends were encouraged to explore Havana on their own and mingle with the people. He even spent one afternoon snorkeling with a Cuban man and his son.
"Like most of the Cuban people we met, they were very welcoming to us. The father even paid for our snorkeling. Everywhere we went, we were welcomed. The Cuban people were very comfortable talking with us, and I wanted to learn as much as I could about their culture," Hamilton said. "They didn't want to talk about politics much. They were way more interested in American baseball."
Ironically, baseball was introduced to the country partly as a result of studying abroad. In the 1860s, Cuban student Nemesio Guillot helped spread baseball across Cuba after he returned from studying at a college in Mobile. 
After graduating, Hamilton hopes to work for the National Geospatial-Intelligence Agency, which is uses geospatial data to develop intelligence information used by United States intelligence agencies.
"I've always had a love for maps, and I've collected them since I was four years old. I also had a great-uncle who worked for the Central Intelligence Agency, the Federal Bureau of Investigation and the Drug Enforcement Administration, and he really made an impression on me. When I found out I could make maps for an intelligence agency, that was the icing on the cake," Hamilton said.
He also took an unexpected tour of one of Cuba's medical facilities after a herniated disk flared up late one night.
"I was taken to the hospital by ambulance and was in the emergency room overnight," Hamilton said. "The hospital was almost as good as an American hospital."
Now at home and recuperating from an operation for the herniated disk, Hamilton is completing his studies online with plans to graduate in December. He often thinks of the 28 days he spent in Cuba and how the experience will impact his future.
"I'd advise anyone to study abroad for the experience of learning something different, but it's really important if you're planning on a career that involves international travel," Hamilton said. "The people in the Study Abroad Office made it easy for me to have the experience, and that made all the difference. I hope to go back to Cuba one day, but I have a lot of other places to go first."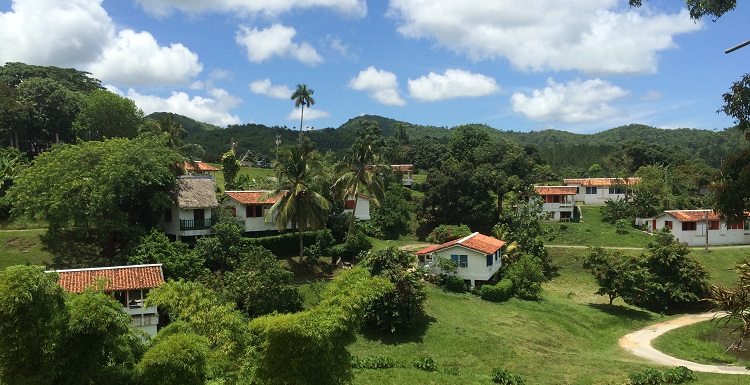 Read the full story at at: http://www.southalabama.edu/departments/publicrelations/pressreleases/102615cuba.html